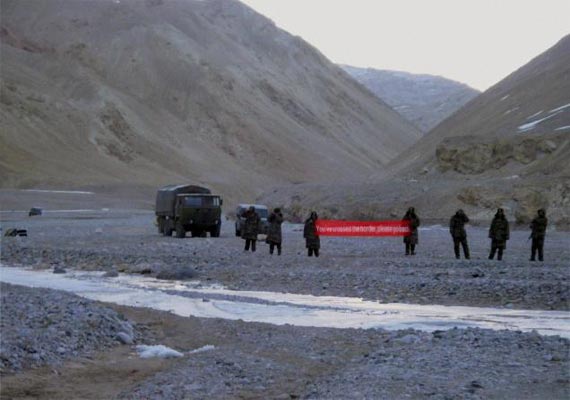 New Delhi, Jul 21: Chinese PLA (People's Liberation Army) soldiers on Tuesday and Wednesday again intruded into Indian territory by crossing the Line of Actual Control in easter Ladakh.
They held banners asking India to vacate what they called "occupied" territory.
Sources said, nearly 100 Chinese soldiers intruded into Indian territory, had an eyeball-to-eyeball confrontation with Indian jawans and later returned to their positions.
National Security Adviser Shiv Shankar Menon, the Foreign Secretary and Defence Secretary have been informed about the Chinese intrusions.
"The face-to-face situation continued for two days and in between a Chinese vehicle also broke down. Status quo was restored on July 18," a senior official told Hindustan Times.
The Indian side has asked for a meeting of the area commanders at Spanggur Gap to discuss the incursion.
A meeting of the apex China Study Group, comprising top officials from foreign, home and defence ministries and the intelligence agencies R&AW and IB is being convened.
In mid-June Chinese soldiers broke a cctv camera installed by the Indian army in Chumar sector of Eastern Ladakh.
Chumar has been the focus of Chinese army since the 21 day face-off in Depsang Plains, which ended on May 5. This area near the Himachal Pradesh border has also seen airborne violations by Chinese army helicopters.
Senior officials said that LAC transgressions by Chinese troops have been reported from Arunachal Pradesh and even Sikkim in the past two months.
Experts say, the Chinese PLA generals are trying to flex their muscles before the new Communist leadership that has taken over in Beijing in the past few months, and India for them appears to be an easy target.