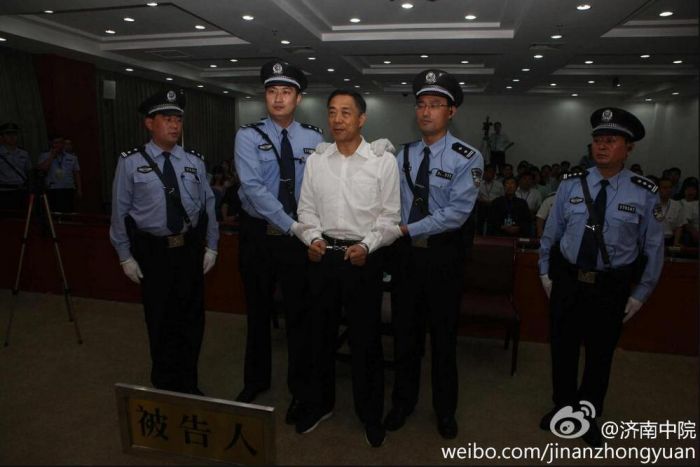 Former Chinese political star Bo Xilai has been sentenced to life in prison after being found guilty of corruption, accepting bribes and abuse of state power.
The highly anticipated verdict of the man once tipped as future leader of China was handed down amid tight security at the Jinan Intermediate People's Court.
"The court sentences Bo Xilai to life imprisonment for taking bribes, deprives him of his political rights for life and confiscates all his property," it said in a statement.
He was convicted of taking 20.4 million yuan (US$3.3 million) in bribes.
He was also sentenced to 15 years in prison for embezzlement and seven years for abuse of power.
Bo will also have more than 20 million yuan and all other property confiscated, including a villa in France given to his wife by a corrupt businessman
According to transcripts of the judgment which were posted on the court's microblog, the court rejected defence arguments that Bo's earlier testimony was given under duress.
It found that Bo had not been tortured or illegally interrogated and as such, the evidence against him stood.
It also dismissed the defence's argument that the testimony of Bo's wife, Gu Kailai, was unacceptable due to her mental illness.
During the 64-year-old's
five-day trial in August
, he dismissed his wife's testimony as "insane".
Prosecutors had demanded the former commerce minister and party boss of Chongqing be severely punished for showing a lack of remorse.
Tight security
The proceedings took place amid stepped up security outside the court, with dozens of police surrounding the building in Jinan.
Dozens of police, some uniformed and others in plain clothes surrounded the court.
Barricades and barriers were erected more than 50 metres away from the court to prevent people from approaching.
A select group of media was allowed into a penned off area in front of the courthouse, where they clamoured to take photos of vehicles entering the court.
The sentence was publicly announced by the court on its verified page on Sina Weibo, a Chinese equivalent of Twitter.
It also posted photos of Bo during and after the sentencing.
Appeal expected
Bo had denied all charges of bribery, embezzlement and abuse of power.
China politics expert at City University of Hong Kong, Joseph Cheng says he expects the sentence will be appealed although court spokesman Liu Yanjie said after the sentencing that Bo did not indicate whether or not he would do so.
He has 10 days from Monday in which to lodge an appeal.
"It is likely that he may appeal since in the initial trial, he strongly defended that he was innocent," Mr Cheng said.
"And apparently he wanted to make sure that he has a chance of making a political comeback through proving, or at least declaring, his innocence. So an appeal is likely."
During the trial, Bo put up a surprisingly strong defence, with a scathing attack on his former police-chief Wang Lijun, saying he was "full of lies and fraud", and compared another prosecution witness to a "mad dog".
But he
wrote to his family
days ago saying he was ready to go to gaol like his revolutionary hero father and that eventually his name would be cleared.
Joseph Cheng says Bo's active contestation of the charges during his trial was a factor in the harsh sentence.
"A defiant attitude and refusing to admit one's guilt is considered bad behaviour and attracts a heavier sentence," he said.
"Bo Xilai would certainly like to retain a chance of a political comeback, and a heavier sentence from the state certainly indicates a rejection of any chance of giving him a political comeback," he added.
Prior to his ousting, Bo was one of China's top 25 ranking officials who form the party's Politburo.
But he fell from grace last year after his police chief fled to a US consulate and his wife was later convicted of the murder of a British businessman, Neil Heywood.