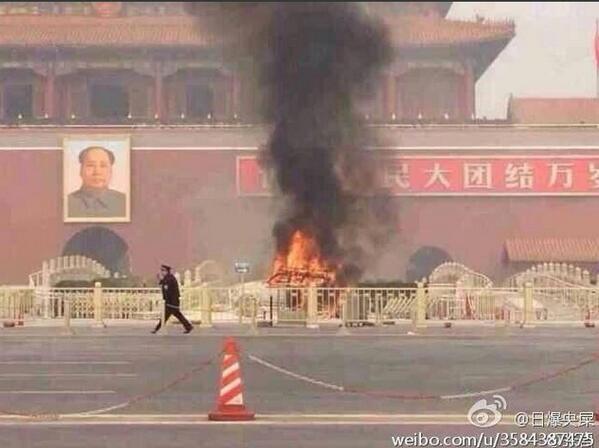 A fire broke out on Tiananmen Square on Monday, prompting an evacuation and closure of the tourist attraction–and Chinese people are saying that it was a "self-immolation incident."
The sensitive area is often under heavy guard.
Chinese police closed the road that runs through the square, a witness told Reuters.
Representatives of the Beijing government and police said they didn't know what happened. Xinhua, a state-run media outlet, said via Twitter that a motor vehicle "went into the crowd." It later reported that three people died, and multiple tourists and police officers were injured.
Reports on Weibo, a Chinese Twitter-like social media service, indicated that people believe that there was a self-immolation (that someone or more than one person set themselves on fire). Many of the photos posted online are being deleted, as is often the case in the heavily censored country, but many were preserved on Twitter.
"Craziest thing ever. Just walked inside TianAnMen square and a car explodes outside the square," said Grace Ng, who is based in New York but is currently in Beijing, via Twitter.
Philip Wen, a China correspondent for the Sydney Morning Herald, posted a photo showing police officers cleaning up after the fire.
Story developing; check back for updates