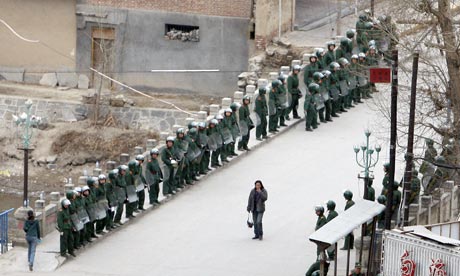 As Tibet observes the fifth anniversary of Lhasa riots tomorrow amid self immolation protests against Chinese rule, legislators of the ruling Communist Party said memories of the 2008 riots, which shook the Himalayan region, has faded out.
"The memory of it is thin and the psychological pressure has been alleviated. Everyone is focusing on making life better," Padma Chodron, a legislator from Tibet, said referring to the violence that erupted in Lhasa on March 14, 2008, resulting in the deaths of 19 people.
However, she says she can still feel the fear when the images of looting and violence were shown on television in her home village.
"I was fidgety day and night, afraid that something terrible would happen again," the Tibetan deputy currently attending the Chinese Parliament -- the National People's Congress (NPC) -- told state-run Xinhua news agency.
"Conversations between villagers were limited to everyday things, but after the incident, the topics changed and our peaceful lives were disturbed," the deputy from Medog county said.
The riots in which hundreds of Buddhist Monks took part shook China and the world and the Chinese Premier Wen Jiabao blamed the supporters of the Dalai Lama based abroad for instigating the violence ahead the 2008 Beijing Olympics.
The incident also had an impact on the region's tourism industry, which many depend on to secure their livelihoods.
In 2008, the volume of tourists was reduced to less than half of that of the previous year. The tourism boom brought about by the inauguration of the Qinghai-Tibet railway in 2006 came to an end after the incident, the Xinhua report said.
Five years after the riot, Tibetans attending the annual meeting of the Parliament believe the memory of the incident has passed.
"Tibet has long been out of the shadow of the incident," said Xindra Tenzin Chodrak, the deputy director of the standing committee of the people's congress of Tibet.
"Businessmen and Buddhists tell me they feel safe in Lhasa," Xindra claimed skirting any references to over 100 self immolations in the Himalayan region protesting the Chinese rule.
The regional tourism industry, mainly boosted by the arrivals from Chinese main land began to recover in 2009, with the number of visitors reaching 5.56 million in 2009 and over 10 million from home and abroad last year.
"To maintain Tibet's social stability, it is important to develop the economy and improve people's livelihoods," said Padma Choling, the director of the standing committee of the people's congress of Tibet.
Over the past five years, Tibet has maintained GDP growth of 12 per cent, as well as boosted incomes for both urban and rural residents, he said.
shared from OUTLOOK India